Well, if you have a nice website/ blog, make sure that you don't do

copy-paste

without enclosing the real source. Imagine, if you make an original article created by yourself, then there is someone other that copy and paste your article, how do you feel? Of course, you will feel like you've been stolen. But, don't worry, because now you can be a honest blogger by

CopyScape

. Here we go...

CopyScape

is a website that can detect how many people that copy-paste your article. It simple. Just type your blog address (URL), then click
Go
. It looks like this:
It is for a

free

one. It only can detect

How many times your article has been copied

.
But, you can also use the premium feature by

signing up

or registering an account. By premium search, you also can find the real plagiarism, comparing your original text with the copy of it, and find who are people that steal your article.
This is the premium feature looks like: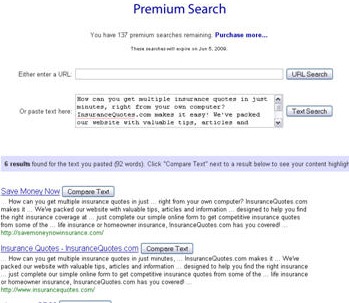 Then, not only that. To be the real honest blogger, you can add

"anti-copy-paste" banner

by CopyScape on your blog. (You can see mine on the right-bottom of this blog in Disclaimer column).
This banner is usefull to prove that you are the real honest blogger that appreciate other people article and it also can prevent the readers/ visitors to undo their copy-paste action (because this article has a copy-right...) :DD
There are many choice of the banners. You can choose the suitable one for you based on your blog appearance:
Well, any way, just write your original article. However it won't be fastly as popular as the copied one, but at least you have appreciated other people creature. :)
Let's be a honest blogger and don't make the Google Search Result become full with un-original article...!!!

:D
AND...NOW, I KNOW...!!!


(c) Written by: Nanda Firsta
Source: Own Experience and supported from

CopyScape Website